La renardière — Installation multimédia
2014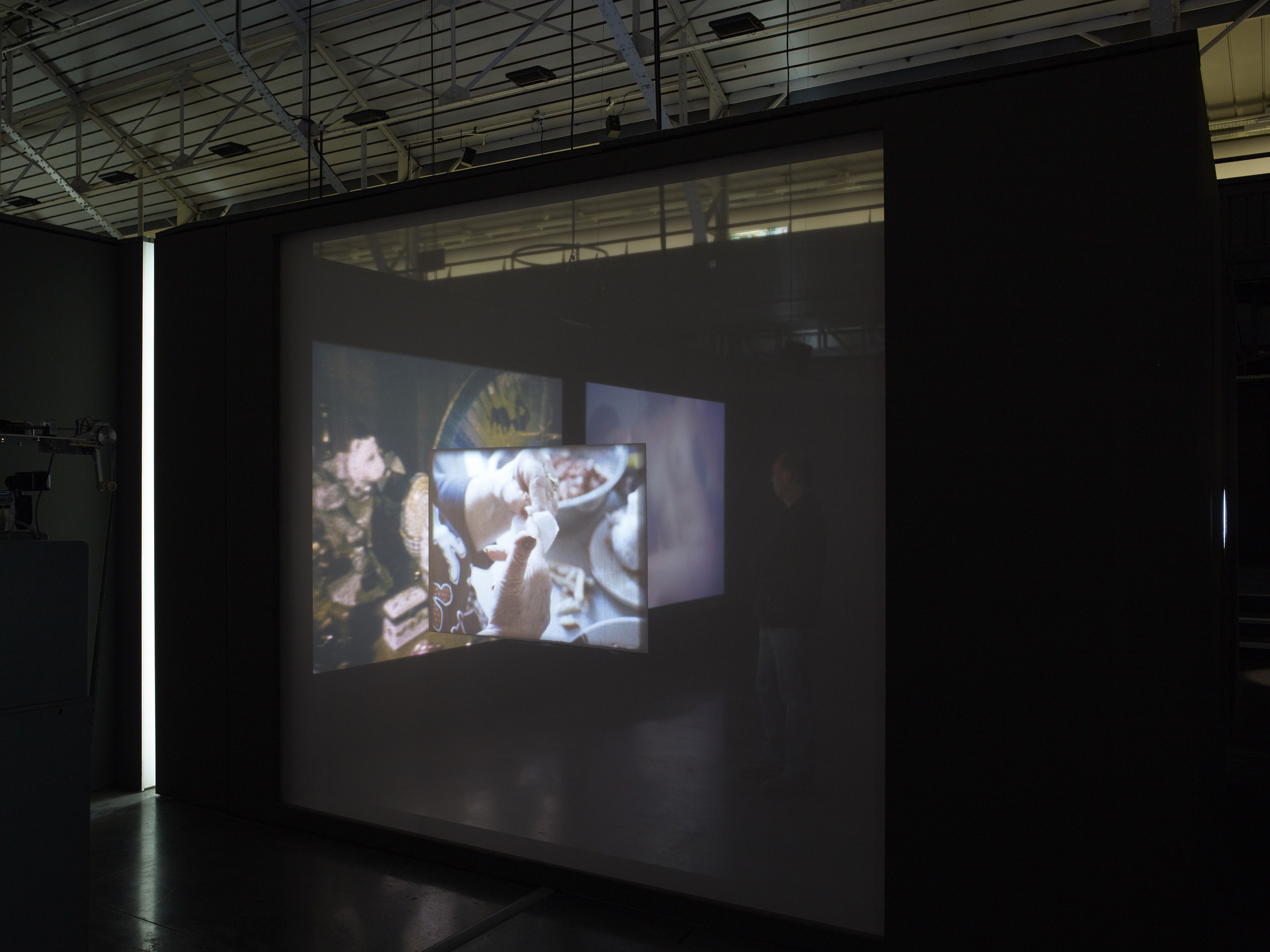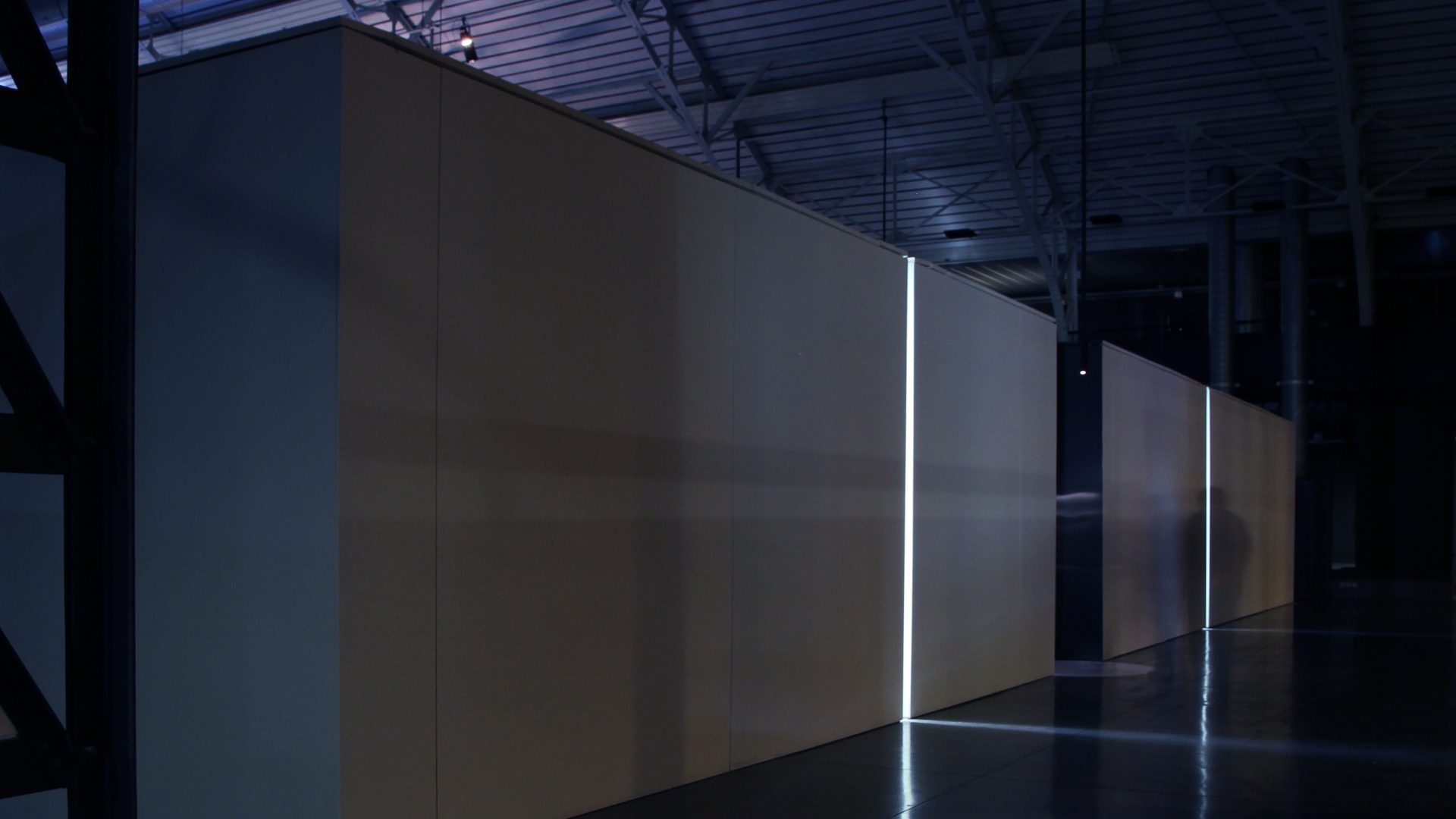 LE SACRIFICE / projection film 16mm couleur sur voile / muet / 05 ' 21 '' / bouclé.
GIGI ET LE CALDARIUM / diptyque/ projection de films super 8 et 16mm
transférée / couleur / sonore / 22 ' 02 '' / bouclé.
>>

-
THE SACRIFICE / 16mm colour film projection on white veil / mute / 05 ' 21 "/ loop.
GIGI and THE CALDARIUM / diptych / super8 and 16mm film projections
transferred to HD video / color / stereo / 22 ' 02 " / loop.
>>

Crédits photos: Marc Domage


Ma grand-mère paternelle, originaire du Nord-Pas-de-Calais depuis plusieurs générati ons, vit actuellement dans la banlieue Lilloise. Après plus de vingt-cinq ans d'union, « Gigi » a fuit à l'âge de quarante-cinq ans son mari d'origine algérienne. Ils ont tous deux dirigé des bars-discothèque en Europe ainsi qu'un «Hôtel de passe» à Aachen. Cette femme que j'ai rencontrée pour la première fois à vingt-trois ans a toujours été une énigme pour moi.Trois films tourné-monté en super 8 et en 16mm présentent de multiples volets en dévoilant le personnage principal: des fragments d'images pour des fragments de vies – ses dires, sa voix rauque et asthmatique, morcelés en souffle continu et en mots – ponctuent l'installation qui s'intitule « La renardière ».

L'image n'est faite que de grain. La pellicule réagit comme la chair : ça souffre, ça vit, ça se travaille, ça se retravaille, ça s'en prend plein la gueule. La pellicule est comme un bout de vie, un morceau de vivant. Un corps torturé volontairement ou accidentellement.Un corps interdit et passionnel en devient pernicieux, à la limite du blasphématoire. Cette dichotomie entre le corps pudique dans la sphère intime et le corps publique est source d'étonnement et de fascination.




Un catalogue de vie que je dissèque comme un corps, morceau par morceau, une suite d'images en matière. Un catalogue de vie que j'énumère métaphoriquement, en liste descriptive, comme le ferait un enquêteur impliqué, subjectif et touché. (YB.)
-
My paternal grandmother, born in Nord-Pas-de-Calais like generations before her, now lives in the suburbs of Lille. At the age of forty-five, after more than twenty-five years of marriage, "Gigi" ran away from her husband of Algerian origin. Both ran bars and discotheques around Europe as well as a brothel in Aachen. This woman whom I first met when she was twenty-three has always been an enigma for me. Three films shot and edited in Super 8 and 16mm present multiple chapters revealing the main character: fragments of images for fragments of lives – her words, her hoarse, asthmatic voice, broken up into continuous breath and words – punctuate the installation titled La Renardière.

The image is all grain. The film reacts like flesh. It suffers, it is alive, it is worked, it is reworked, it takes its fill. Celluloid like a bit of life, a piece of life.
A deliberately or accidentally tortured body. A forbidden and passionate body becomes pernicious, almost blasphemous.
This dichotomy between the modest beauty in the private sphere and the public body is a source of astonishment and fascination.
A catalogue of life that I dissect like a body, bit by bit, a series of images in matter. A catalogue of life that I metaphorically reel off, in a descriptive list, as would an involved, subjective and personally moved investigator. (Y.B.)
---


MATTHIEU ORLÉAN - COMMISSAIRE
Ramy Fischler - Scénographe
(…) Le sous-titre de Panorama 16, « Solus Locus » ne fait pas qu'inverser les termes du célèbre livre labyrinthique de Raymond Roussel (Locus Solus) publié en 1914 (…). Elle retourne l'idée d'un lieu unique pour en faire jaillir toute la multiplicité souterraine. Les œuvres sont solitaires, mais le projet est commun. Un écart paradoxal qu'il s'agira d'étayer, à l'image de l'inventeur Martial Canterel, qui, « à l'abri des agitations de Paris », dévoilait, au regard de ses hôtes, des assemblages passionnants, interrogations plastiques muables et ingénieuses montrées in situ le long de ce qui avait tout l'air d'une exposition, sans en porter volontairement le nom. Ces merveilles magnétiques seront bien présentes au Fresnoy à entendre les mots choisis par les artistes eux-mêmes dans leurs discours et leurs notes de travail : mythologies, altérations, métamorphoses, chutes, ondes cérébrales, chamanisme, nombre d'or, hallucinations, morphing, fétiches, présences fantomatiques, bigbang et autres terres utopiques. (…) Un « Solus Locus » contemporain qui n'est pas négation du monde, mais un regard de biais sur les lignes de tension et de fuite qui le rendent incroyablement complexe, désirable, instable (politiquement / socialement / spirituellement). En somme perpétuellement en devenir.



(…) The subtitle of this Panorama 16, « Solus Locus » does more than just invert the title of Raymond Roussel's famous book, Locus Solus (1914) (…) This paradoxical discrepancy is something to be articulated and constructed, as when, "away from the bustle of Paris," the inventor Martial Canterel revealed his fascinating contraptions to his guests, those changeable and ingenious visual questions shown on-site in what very much looked an exhibition without deliberately taking the name of one. These magnetic marvels will be displayed in Le Fresnoy, hearing the words spoken by the artists themselves in their discourse and in their working notes: mythologies, alterations, metamorphoses, falls, brain waves, shamanism, the golden section, hallucinations, morphing, fetishes, ghostly presences, the big bang and other utopian territories. (…) A contemporary "Solus Locus" that is not a negation of the world, but an oblique look into its lines of tension and disappearance, making it incredibly complex, desirable, unstable (politically, socially and spiritually) – a place of perpetual becoming.
ŒUVRES ET ARTISTES
David AYOUN / Léonard BARBIER-HOURDIN / Romain BAUJARD / Gabriel BECKINGER / Yasmina BENABDERRAHMANE / Yasmina BENARI / Sebastian BRAMESHUBER / Jean-Claude BRISSEAU / Elisabeth CARAVELLA / Kai Chun CHIANG / Pauline DE CHALENDAR / Alexis DE RAPHELIS / Constantin DUBOIS / Bernard FAUCON / Elsa FAUCONNET / Alice FURTADO / Clément GOFFINET / Paul GUILBERT / Meryll HARDT / Robert HENKE / Raphaël HOLT / Zhenqian HUANG / Daphné HÉRÉTAKIS / Dane KOMLJEN / Efthimis KOSEMUND SANIDIS / Evangelia KRANIOTI / Kate KROLLE / Riikka KUOPPALA / Bertrand LAMARCHE / Randa MAROUFI / Thomas MCINTOSH / Gilles MEILLASSOUX / Lauren MOFFATT / Guillermo MONCAYO / Raphael MOREIRA GONÇALVES / Faye MULLEN / Arash NASSIRI / Léo PACQUELET/ Bárbara PALOMINO RUIZ / Justine PLUVINAGE / Maral POURMANDAN / Jonathan PÊPE / Ben RIVERS / David RODES / Thibaut ROSTAGNAT / Nicolas-Pierre RÉVEILLARD / Ludivine SIBELLE / Clio SIMON / Julia STERN / Lukas TRUNIGER /
Kevin VOINET